Press Release
Book Investigates Populism's Gender Backlash
With DEMOS contributions, publication covers new trends in populist politics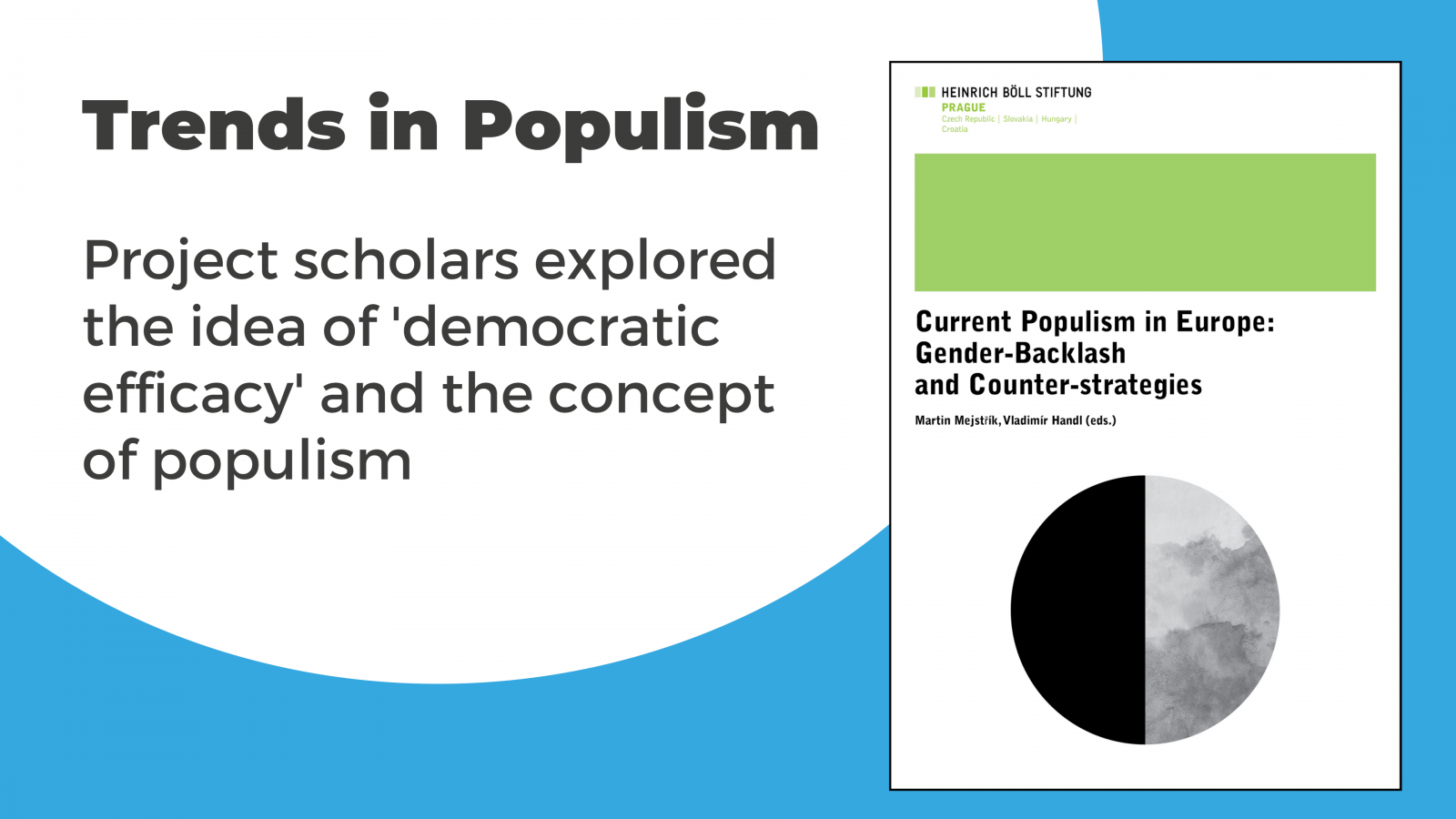 Budapest, May 12—Populism sides with a 'silent majority' against pluralism and minorities. In that direction, a new book explains that anti-gender rhetoric has been one of the latest trends in populist politics. "Current Populism in Europe: Gender-Backlash and Counter-strategies", published by Heinrich Böll foundation in Prague and edited by DEMOS co-investigator Martin Mejstřík and Vladimír Handl (Charles University), looks into how Poland and Hungary have taken leadership in redefining values of equality, with both governments targeting minority rights while redefining the role of women as "primarily reproductive".
Strategies like those aim at creating bonds with supporters. Populist leaders claim to defend the pure "people" and its "traditional" values against threats (even if the threat is false). "Populists are now exploiting gender issues, including abortion or the role of women in society, to rally their supporters around those 'traditional values'," Mejstřík says.
In doing so, populist politics threatens principles of equality and minority rights. Poland, which does not have a vibrant migrant community, has chosen "feminists" and the LGBTQI community as the "enemies" that do not fit in the "right standards of morality" and "cultural traits" that the Law and Justice party invests on, writes author Anna Grudzinska (Lazarski University).
By shifting societal values from gender towards family, Fidesz in Hungary has promoted social and religious conservatism "from the nineteenth century" that "makes possible state-sponsored anti-gender mobilization and anti-feminism," writes author Robert Sata (Central European University).
The book features three chapters by DEMOS scholars. They offer the reader fresh insights into understanding populism and novel ways of studying it. Arturo Bertero, a project scholar from the University of Turin in Italy, covers how Italian populist actors successfully used social media during the first wave of the COVID-19 pandemic to get their message through.
Márton Bene and DEMOS leader Zsolt Boda (Centre for Social Sciences in Budapest) devote a chapter to explain democratic efficacy, a key DEMOS idea designed to measure the quality of citizens' political behaviour and their capacity to resist the populist appeal. Research has already shown that citizens with high levels of democratic efficacy are more likely to disagree with populism.
In the concluding chapter, project co-investigator in Bratislava, Andrej Školkay (School of Communication Media), reviews discussions about populism and why he believes the topic should be studied as a political logic that benefits from crises.
About the book
"Current Populism in Europe: Gender-Backlash and Counter-strategies" will be launched and discussed publicly at the 6th edition of the Prague Populism Conference.
The online event will take place between 17 and 19 of May. Read more about the event and sign up by 14 May here. Chapters written by DEMOS scholars are available for free download below.
Democratic Efficacy and Populist Attitudes: A conceptual and Empirical Exploration, by Zsolt Boda and Márton Bene (Centre for Social Sciences, Budapest). Download here.
The COVID-19 related Communication of Italian Politicians and Its Success on Facebook, by Arturo Bertero (University of Turin). Download here.
The cause and retort of populism: a formal political reasoning (politics) without distinct ideology as a response to a political-moral-crisis—turning Laclau's theory into a research tool. Download here.
Press Contact
Discussion
Sign up to the DEMOS website and share your comments on the publication in our forum.
Latest Press Releases
02/12/2020—Populist Leaders Change the Judiciary to Increase Power
16/09/2020—How Human Evolution Explains Support for Populist Leaders
12/08/2020—Social Exclusion, Polarised Societies, and Technocracy Leads to Populism
04/08/2020—Partisan Media Erodes Trust in Politics, New Study Claims
About DEMOS
DEMOS — Democratic Efficacy and the Varieties of Populism in Europe — is a three-year collaborative research project with 15 consortium members across Europe. DEMOS is funded by the European Commission under the Horizon 2020 framework programme. The project, which kicked off in December 2018, has two chief objectives: better understand populism by investigating under-researched trends in existing scientific literature and contribute to addressing the challenge of populism through innovative and action research. Read more about DEMOS here.