Press Release
Social Exclusion and Polarization Leads to Populism
Study shows that populism is stronger in countries without job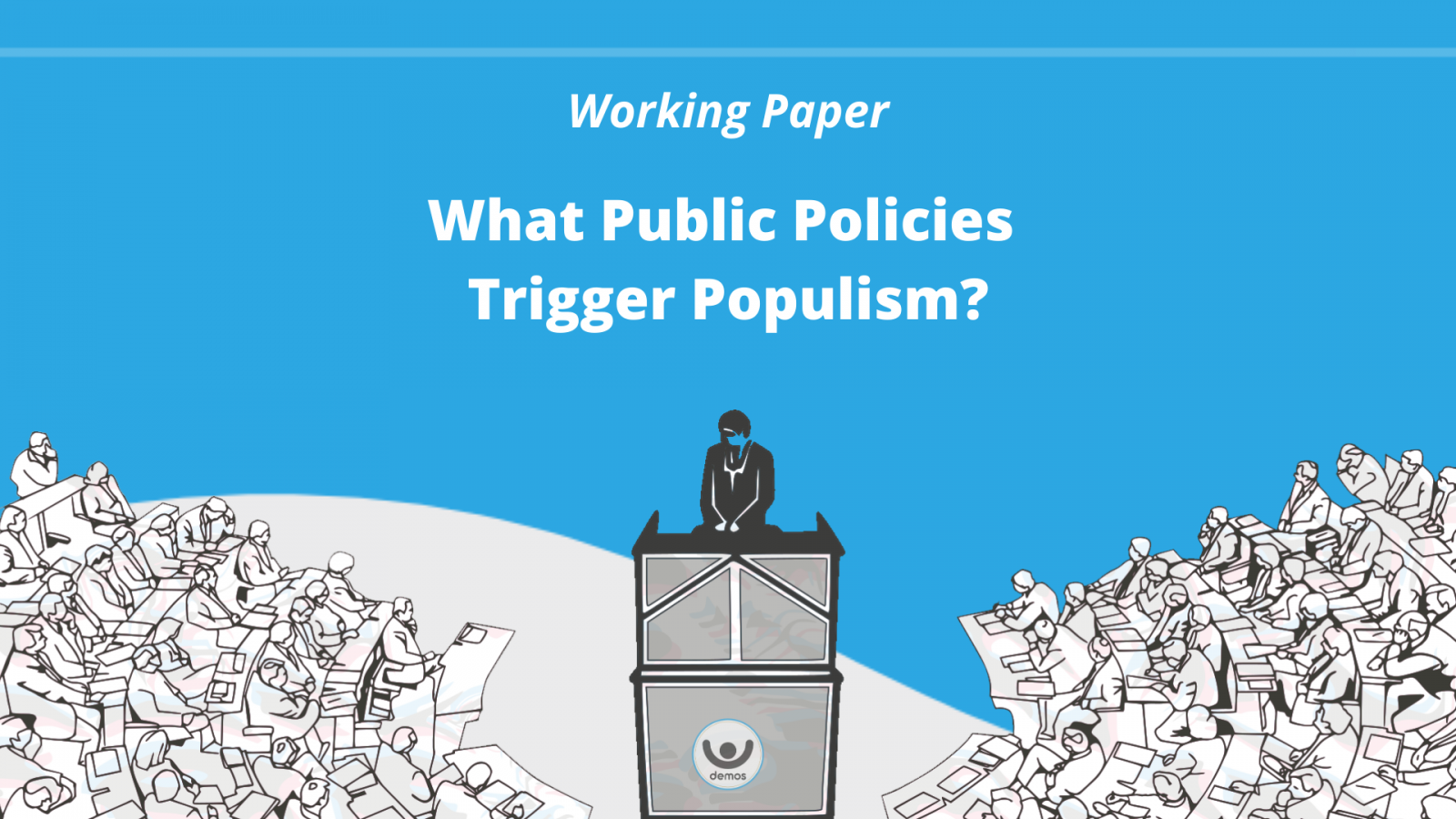 ​After the 2008 financial crisis, citizens supported more populist forces in Hungary, Greece, Poland, Italy, and several other EU countries.
Populist attitudes are stronger in countries without job and education for citizens between 15 and 34 years old.
Technocratic governance and polarised societies favour populism.
Budapest, August 12—More than causing an economic shock, the 2008 financial crisis left behind a stronger support for populist parties across most of the EU's member states. Support has been stronger in Hungary, Greece, Poland, and Italy. These are the main findings of a working paper, released by DEMOS today, which investigates what public policies have triggered the latest rise of populism in Europe. (Download the study below.)
By analysing international datasets between 2008 and 2016 and four national case studies, the research found that country context matters. Policies that leave behind a vulnerable landscape of greater poverty, social exclusion, and high unemployment trigger citizens' support for populism, particularly the left-wing type.
The lack of policies favouring job creation and educational training for citizens between 15 and 34 years old was also found to predict populist attitudes. "This may be a first step in the rise of populism", says Attila Bartha, from the Centre for Social Sciences in Budapest, who led the research. "When a skilful political entrepreneur embraces populism and there is a supply of populist parties, public support for populist forces will increase."
The study also looked into governments' responses to the crisis and society. In the first case, the authors found that technocratic governance by non-elected experts favour populism. Like in populist governance, technocratic governance represents an unmediated form of public administration which bypass democratic institutions and checks and balances.
A society divided along political lines is also a threatening signal for populism to grow. Often, technocratic governance is hand-tied with polarisation. "The toxic polarisation-technocracy combination emerges in Eastern and Southern European countries where party democracy is weaker," says Bartha.
The research also found that spending rates on education and health care themselves do not signal a populist rise. This conclusion reinforces the idea that populism is "chameleonic": it travels across ideologies and policy schools.
This flexibility makes countering populist policies a daunting task. Any responses to populist actions should consider country contexts. But actions that foster the labour market and provide young people with education and training might at least restrain the populist temptation. Technocratic governance and societal divides should also be on political actors' radars. These are yellow warnings for a populist wave.
DOWNLOAD INFORMATION

Download the working paper on triggers of populism here.
PRESS CONTACT
contact@demos.tk.mta.hu
DISCUSSION
Sign up to the DEMOS website and share your comments on the publication in our forum.
Latest Press Releases
04/08/2020—Partisan Media Erodes Trust in Politics, New Study Claims
28/07/2020—In New Study, DEMOS Elaborates on How Populist Policies Work
15/07/2020—High Democratic Efficacy Restrains Populism
More Press Releases and Studies

About DEMOS
DEMOS — Democratic Efficacy and the Varieties of Populism in Europe — is a three-year collaborative research project with 15 consortium members across Europe. DEMOS is funded by the European Commission under the Horizon 2020 framework programme. The project, which kicked off in December 2018, has two chief objectives: better understand populism by investigating under-researched trends in existing scientific literature and contribute to addressing the challenge of populism through innovative and action research. Read more about DEMOS here.