Press Release
How Human Evolution Explains Support for Populist Leaders
Populist narratives trigger voters' intuitions about fairness, new study claimed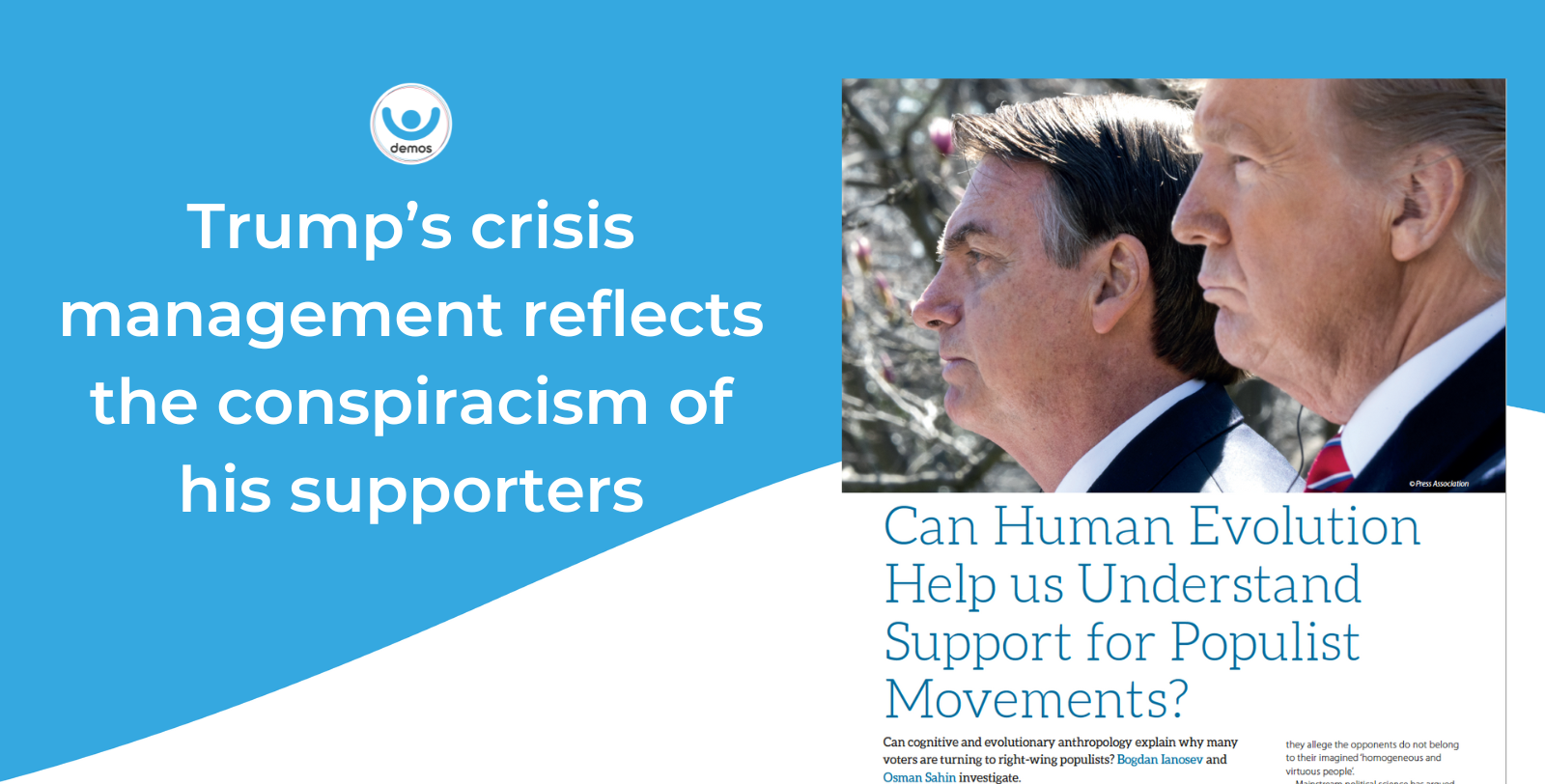 Intuitive thinking may explain support for populist actors even when they fail to deliver in office, claims new scientific article.
Populist narratives trigger voters' intuitions about fairness, in-group relations, and hierarchies.
As a consequence, society tends to support the populist message even if it is ungrounded or false.
Unwarranted beliefs in conspiracy theories and right-wing populism rely heavily on intuitive thinking.
Budapest, September 15—The coronavirus pandemic has struck the US, Brazil, and Britain more severely than their neighboring countries. Yet, their populist leaders have kept or even boosted public support. In a new article for the September issue of the journal Political Insight, DEMOS members Bogdan Ianosev and Osman Sahin (Glasgow Caledonian University) discuss possible answers for a question that mainstream political science has failed to address: why do voters support populist parties even when they fail to deliver in office?
The article argues that the answer might lie in cognitive anthropology and its idea of cognitive universals—the patterns of behavior shared by humans as a result of how brains evolved and how they are wired—and their relationship with human intuitions. These include perceptions of fairness, in-group relations, and respect for hierarchies and family. Unwarranted beliefs in the paranormal, conspiracy theories, and right-wing populism rely heavily on intuitive thinking. "And this is not always positive," Ianosev and Sahin claim.
Intuition cannot understand how the coronavirus spread. Nor does it have the capacity alone to thoroughly assess any other complex issue. When a populist leader utters simplistic, unwarranted messages that downplay scientific insights and medical expertise, what is left is not only disinformation. Coming as "alarm calls", these narratives trigger immediate intuitive reactions based on fear, fairness, and faith in the country's leader. As a result, society supports them.
Trump's popularity is an example. Despite his disregard for expert opinion and the distorted view that China is behind the pandemic, Trump's crisis management goes hand in hand with the conspiracism of his supporters. His messages sound right, even if they are ungrounded or false. "Both conspiracy theories and right-wing populism are underscored by the belief that mainstream media and establishment politicians are malevolent actors striving to dominate and subdue ordinary people, taking away their freedoms," the authors argue.
Cognitive universals have been operating for thousands of years. But the support for populists have only recently increased because of social media. Without professional media's circumvention, populist actors have found in cyberspace the best means to speak directly with their voters, evoking scare-mongering and appeals to vague notions of the "heartland"—the community to which they belong. All that without filters or fact-checking.
The authors admit that the idea of voters being led as much by forces of evolution as they are by their own free will may sound strange. But their findings also suggest that cognitive anthropology presents a new opportunity to understand how society, politics, and populism work.
DOWNLOAD INFORMATION

Download the study here.
PRESS CONTACT
contact@demos.tk.mta.hu
DISCUSSION
Sign up to the DEMOS website and share your comments on the publication in our forum.
Latest Press Releases
12/08/2020—Social Exclusion, Polarised Societies, and Technocracy Leads to Populism
04/08/2020—Partisan Media Erodes Trust in Politics, New Study Claims
28/07/2020—In New Study, DEMOS Elaborates on How Populist Policies Work
More Press Releases and Studies

About DEMOS
DEMOS — Democratic Efficacy and the Varieties of Populism in Europe — is a three-year collaborative research project with 15 consortium members across Europe. DEMOS is funded by the European Commission under the Horizon 2020 framework programme. The project, which kicked off in December 2018, has two chief objectives: better understand populism by investigating under-researched trends in existing scientific literature and contribute to addressing the challenge of populism through innovative and action research. Read more about DEMOS here.