Press Release
Stronger Democratic Institutions Curb Populism
Measures that balance the powers of the state and specify conditions for constitutional revision help hinder populism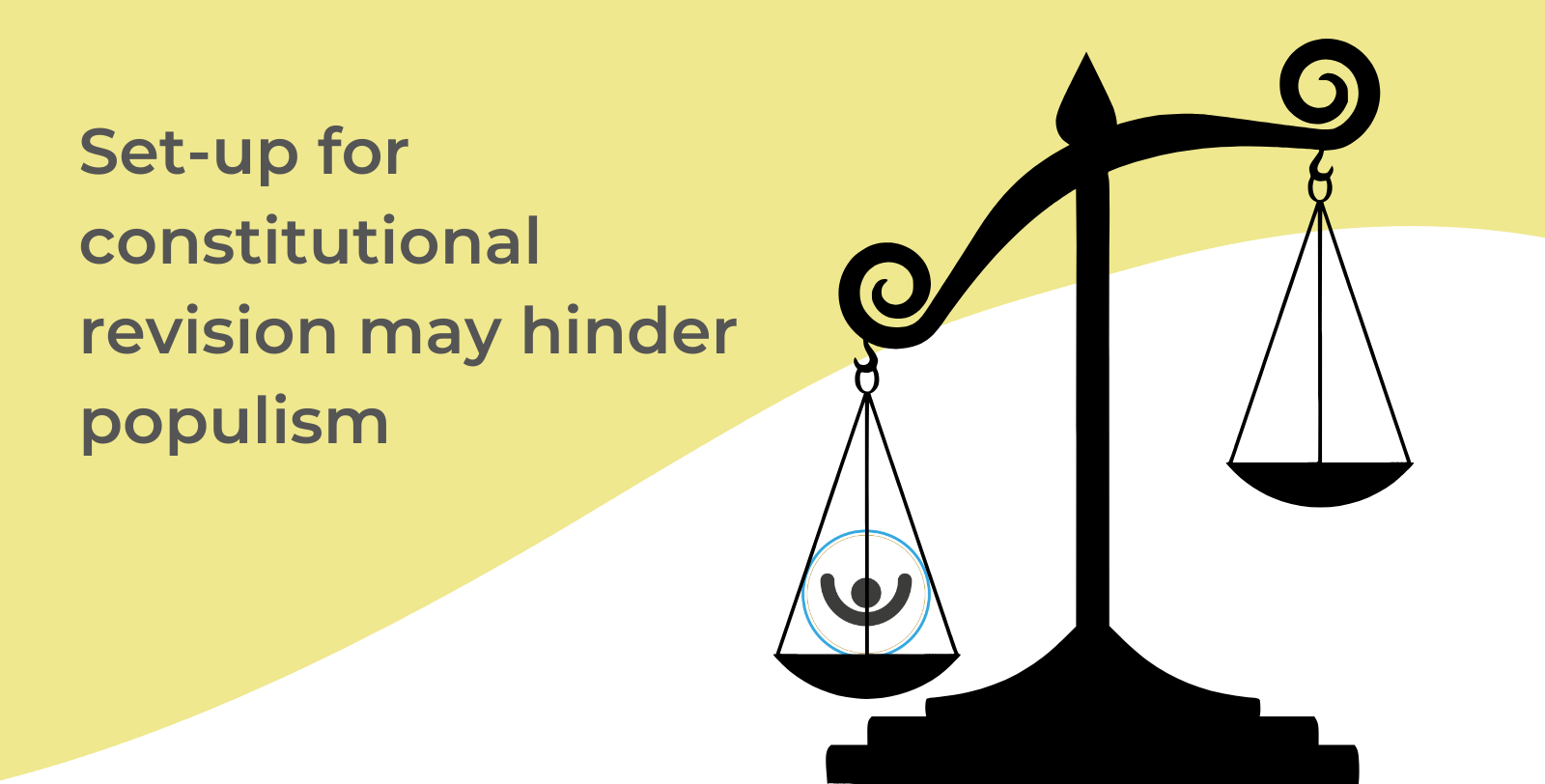 European countries with unlimited presidential mandates and power imbalance may help the spread of populism.
Independent constitutional courts and political party regulations help contain the spread of populism.
Oversight institutions should inspect governments' use of referenda for ordinary decision-making.
To regain legitimacy, the EU should boost citizens' participation in decision-making bodies.
The way in which governance institutions are set-up and working might favour or hinder the spread of populism in Europe. A new DEMOS research found that countries with regulations that balance the powers of the state, specify conditions for constitutional revision, and boost citizens' participation in decision-making create an effective environment against populism. (The working paper is available for download below.)
To reach these conclusions, the DEMOS teams from the University of Barcelona, University of Copenhagen, and the Centre for Social Sciences in Budapest analysed academic literature and got first-hand insights into institutional arrangements from experts in 21 European countries.
The research also studied the relationship between populism and the European Union, a common target of populist rhetoric. The conclusion is that EU institutions should avoid arbitrating into national issues to prevent a political backlash. The focus should be in re-building legitimacy instead, which could be done by promoting citizens' participation in decision-making bodies.
Power struggle
The study found that countries with unlimited presidential mandates or power imbalance among political parties and governance structures struggle to cope with the challenge of populism. "Countries in which the functioning of democracy has had longstanding problems have proven fertile ground for populist parties to grow," says co-author Josep Maria Castellà, who leads the DEMOS Spanish team. Italy and Spain are examples, Castellà says. In Italy, there are no regulations on political parties and in Spain the current provisions are generic.
Passing constitutional provisions that limit the number of presidential mandates, political party regulations, and electoral reforms that balance party representation in parliaments is not a simple task. But the analysis found that countries with one or more of these features, such as Germany, are better prepared to curb the spread of populism.
Referendum
Listening to people's opinions for decision-making is legitimate and democratic, but populists have used referenda to pose questions that simplify complex issues that are neither binary—presented to voters with answers such as "yes" or "no"—nor provided for by the national constitution.
Another tactic has been to use the tool to gain political advantage over the EU, as happened in Greece (Greek Bailout), the United Kingdom (Brexit), and Hungary (Migrants Quota). One of the consequences is that opinions in society become more extremist.
The research suggests that oversight institutions should pay closer attention to the use of referenda, to avoid populist actor's strategy of holding them as if it were an ordinary tool for decision-making.
The EU
Besides looking at national contexts across Europe, the study analysed the relationship between populism and the European Union. Populist actors have depicted the EU as an "elite-driven project", as happened in Hungary when the local government held a referendum on relocating refugees in 2016.
To regain legitimacy among citizens, the study suggests that the EU should follow two paths. One of those is to give the European Parliament more centrality in decision-making. Another is to promote and strengthen citizen participation, such as through the European Citizens Initiative.
DOWNLOAD INFORMATION
Download the open-access working paper on populist communication here.
PRESS CONTACT
contact@demos.tk.mta.hu
Latest Publications
05/05/2020—Populist Discourse on Social Media Inflames Anti-European Sentiment
15/04/2020—DEMOS Creates 'Democratic Efficacy', a Concept to Counter Populism
23/01/2020—To Strive, Slovak Populists Explore Neglected Social Issues, DEMOS study says
About DEMOS
DEMOS,Democratic Efficacy and the Varieties of Populism in Europe is a three-year collaborative research project with 15 consortium members across Europe. DEMOS is funded by the European Commission under the Horizon 2020 framework programme. The project, which kicked off in December 2018, has two chief objectives: better understand populism by investigating under-researched trends in existing scientific literature and contribute to addressing the challenge of populism through innovative and action research. Read more about DEMOS on our website.