Press Release
DEMOS Covers Scientific Results in New Report
Last annual report highlights tools and policies to address populism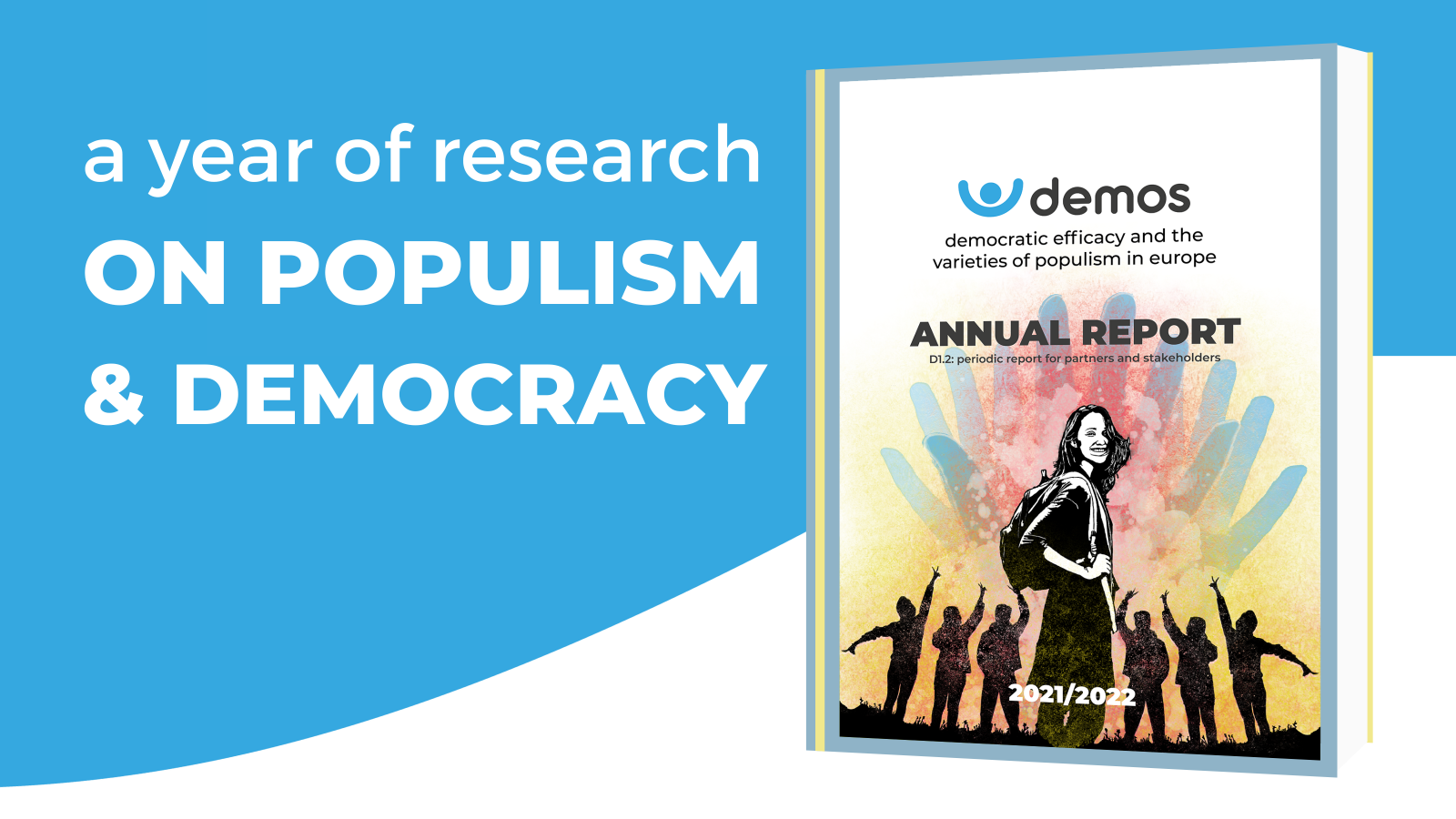 Budapest, 2 August 2022—DEMOS releases today its last annual report, covering key research outputs on populism and democracy it produced between October 2021 and May 2022, when DEMOS completed its main research tasks (download the free report below).
DEMOS kicked off three and a half years ago with the goal of studying populism from new perspectives. It assumed that populism thrives when politics ignores what the people want, what they aspire to, and how they identify with politics. As populism may represent a threat to liberal democracy, because it tends to divide society, disregard minority rights, and affect the rule of law, DEMOS designed the idea of democratic efficacy, which it assumed to work as a type of vaccine against exclusionary and anti-democratic manifestations of populism.
That assumption was proved correct. When citizens have democratic values, skills, and engage with politics, they are more likely to resist the populist appeal. DEMOS also found that only one in 10 Europeans is democratic efficacious. DEMOS created free tools and educational materials to boost democratic efficacy among citizens and youth in particular.
Project research in schools also revealed how a democratic school environment, with civic education and anti-bullying programmes, may boost democratic efficacy and ultimately prevent students from developing populist attitudes.
Besides these results, the report explains how populism has influenced political coverage across Europe. It also elaborates on a new DEMOS fake news detection tool. The project research showed that the tool works to increase secondary school and university students' ability to detect and react to fake news circulated online.
'None of these results would have been possible without the collaborative work of 15 reputable and dedicated partners across Europe,' Zsolt Boda, the leader of the DEMOS project from the Centre for Social Sciences in Budapest, says. 'We thank the scientific community, the media, policy advisors and decision-makers, and citizens for following our research and providing us with feedback during the past years.'
After completing research in under-studied areas associated with populist politics, DEMOS elaborated policy ideas targeting populist challenges in Europe. The report includes links to policy briefs on addressing populist communication on social media, the effects of populism on the media system, and how policymakers may boost democratic efficacy across the continent.
In the past years, DEMOS produced peer-reviewed articles in scientific publications. Its key scientific findings, shared over social media platforms, reached over one million users on Facebook and Twitter alone, according to an online analytics platform. Many thousands more readers visited the DEMOS site since it launched in 2019. Content from DEMOS will continue to be featured in this website. Read all about the latest project research in the annual report below.
Press Contact
Don't miss out on DEMOS research
Sign up to the newsletter.
More Results
18/07/2022—How to Respond to the Populist Challenge?
31/05/2022—DEMOS creates Game to Build Democratic Skills and Counter Fake News
05/05/2022—Dissatisfied with Politics, Populist Voters Disseminate Controversial Language on Social Media
05/05/2022—Populism's Dividing Language Leaves its Mark on Political News