Press Release
How to Respond to the Populist Challenge?
DEMOS releases materials on research-to-policy with EU and sister projects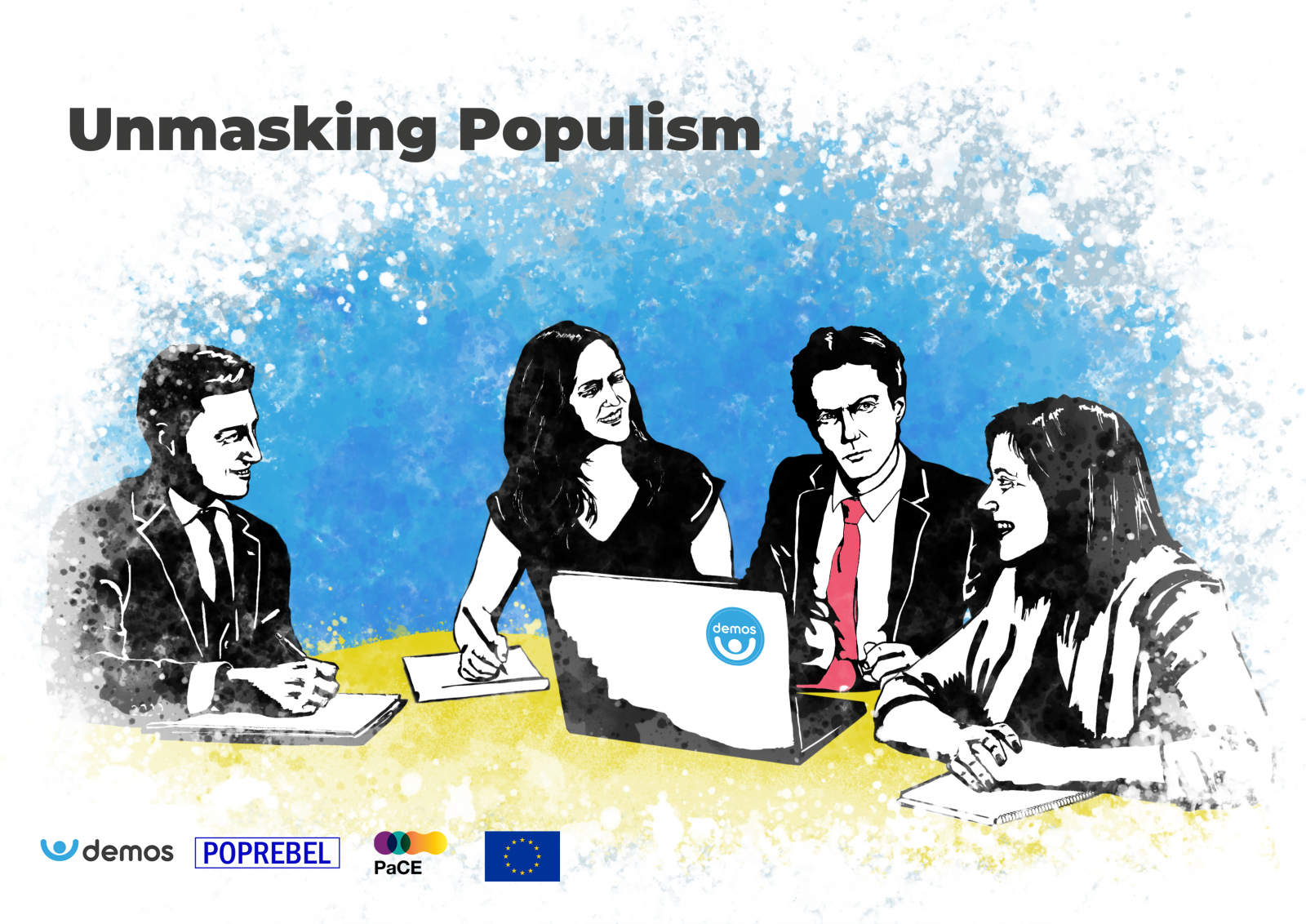 Budapest, 18 July 2022—Social grievances, nationalism, and lack of political engagement are triggers of populist support. Addressing these problems may prevent populist governance, characterised by communication that splits society between the good people and the evil others, attacks on democratic values, and a disregard for minority rights. Rebutting fake news associated with populism, investing in civic education, and involving citizens in policymaking are some ways to respond.
These are the key takeaways of the policy event Unmasking populism: Modalities, scenarios, and responses to a persistent threat, organised by DEMOS, PaCE, POPREBEL – EU-funded projects studying the causes and consequences of populism in Europe – and the European Commission. Findings discussed in the research-to-policy event, which explored scientific insights into the populist ascension, impacts, and policies to respond, are now available in a report released by DEMOS today.
DEMOS is also releasing six policy briefs with ideas to boost democratic efficacy, improve the school environment, strengthen professional media, journalism, civil society defenders, and constitutions. As original DEMOS research has shown, shaping policies in these areas should help counter populist challenges to democracy. (Download the materials below).
Unmasking populism
Over 100 participants followed the 19 May conference, held online with opening remarks by Ms Irene Norstedt, Director of the People Directorate of the European Commission. Several policy experts and advisors from the Commission attended the conference to exchange insights into addressing populism and enhancing democracy based on scientific evidence that the projects have produced.
'Democracy ultimately depends on giving citizens the opportunity to participate in public life and help shape laws and public policies. And this regularly, not only at election time,' Ms Norstedt said in her opening speech.
The projects' scientific conclusions presented at the event build upon citizens' desire for participation in politics and policymaking. The Commission has developed the European Democracy Action Plan, with proposals to fight against disinformation and to promote media freedom, pluralism, and free and fair elections. As part of the plan, legislation that aligns with DEMOS, PaCE, and POPREBEL's policy recommendations on better media and protection of civil rights defenders is expected to be developed by the Commission this year.
Download information
Press Contact
contact@demos.tk.hu
Discussion
Sign up to the DEMOS website and share your comments on the publication in our forum.
More Results
31/05/2022—DEMOS creates Game to Build Democratic Skills and Counter Fake News
05/05/2022—Dissatisfied with Politics, Populist Voters Disseminate Controversial Language on Social Media
05/05/2022—Populism's Dividing Language Leaves its Mark on Political News
18/02/2022—Civic Education Works as a Vaccine Against Populism