Press Release
Orbán's Handling of the Coronavirus Shows How Populists Exercise Power
Populist actors tend to use swift but authoritative executive action to handle crises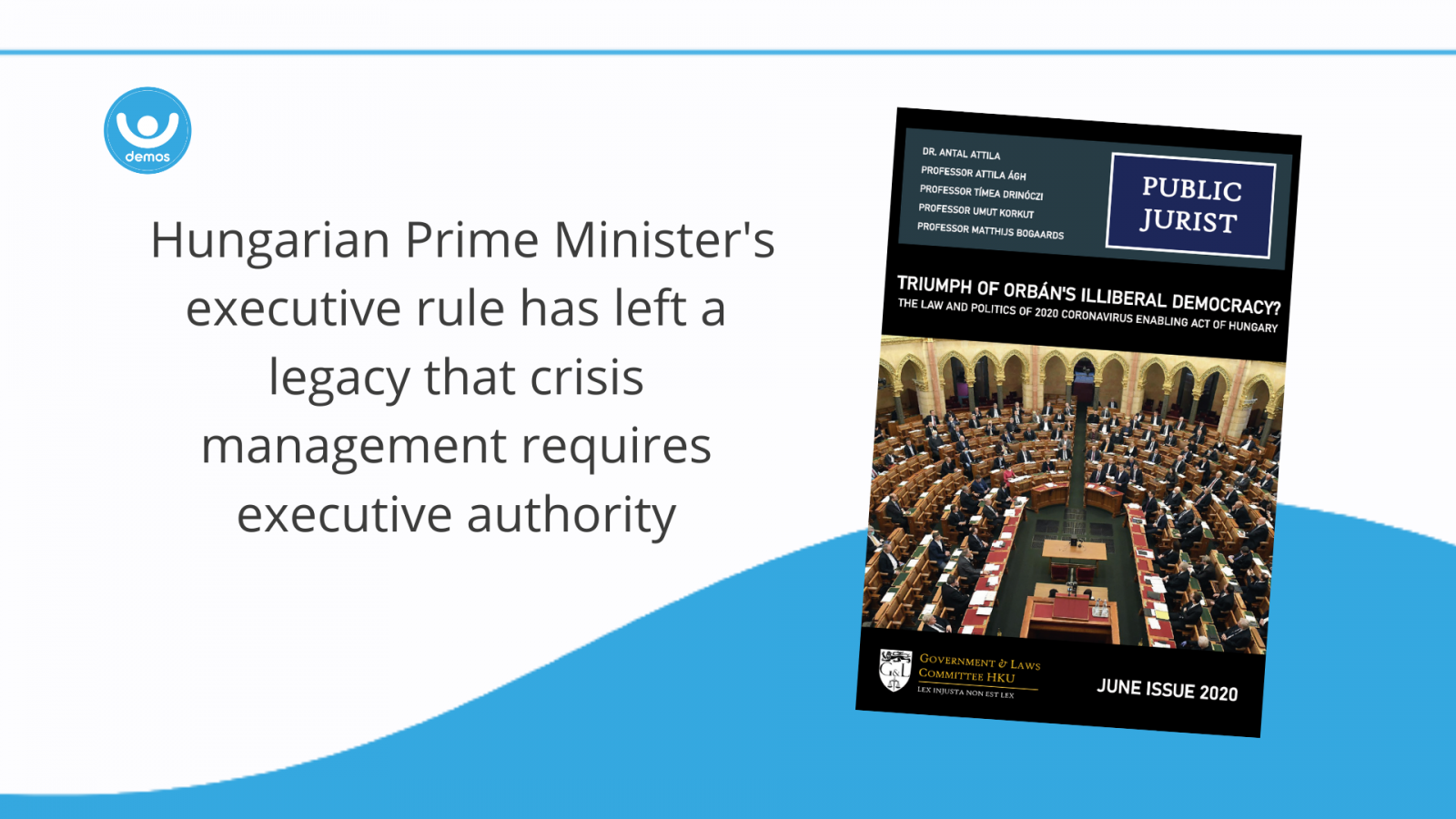 Hungary's leader Viktor Orbán appealed to fears in society to shape public opinion and bolster leadership during the pandemic.
The parliament passed a controversial bill that allowed Orbán to rule by decree with minor oversight.
Populist actors tend to use swift but authoritative executive action to handle crises.
The Hungarian Prime Minister Viktor Orbán's handling of the coronavirus pandemic shows how political leaders have exploited crisis contexts to bolster leadership and, when in government, gain more power. That is the conclusion of a new article by Professor in International Politics Umut Korkut, DEMOS co-investigator at Glasgow Caledonian University. The publication was featured in the Public Jurist, a student-led magazine at the University of Hong Kong, in an issue dedicated to the law and politics of Orban's "illiberal democracy" in Hungary.
The article analyses how Orbán has exploited three major crises that hit the EU in the past years—the financial crisis of 2008, the migration crisis of 2015, and the coronavirus pandemic this year—to "establish a knowledge-regime that requires swift but authoritative executive action", professor Korkut writes. Matteo Salvini in Italy and Marine Le Pen in France became central actors of European politics by adopting similar strategies during the migration crisis.
In Hungary's case, Orbán's strategy to fight against the pandemic included shaping the public opinion and introducing a controversial law. The prime minister's communication promoted anti-western narratives and praised technocratic governance, depicting Hungary as a pillar of stability. "This has served his claim for moral leadership even if morality and legitimacy of his executive role lack confluence," professor Korkut states. Orbán presented himself as the sole actor capable of fighting against the virus, enticing the public opinion to support him.
To that, the Hungarian government added a law that draw criticism from the EU. In March, Orban received special powers from parliament that allowed him to rule by decree effectively indefinitely. The act, proposed by the government, has given Orbán agency to govern with minor oversight from parliament and other checks and balances, the article recalls.
The government has announced that such powers are to end. It set a deadline for them to expire by the end of June. According to professor Korkut, however, Orbán's executive rule has left a legacy that crisis management requires executive authority. "Both discursive and crisis governance strategies will remain latent" in Orbán's knowledge-regime.

FURTHER READING
Download professor Korkut's article on Hungary, published by the Public Jurist, here.
Read a policy brief on Hungary's political narrative, written by professor Korkut for the H2020 RESPOND project, here.
PRESS CONTACT
contact@demos.tk.mta.hu
DISCUSSION
Sign up to the DEMOS website and share your comments on the publication in our forum.
Latest Publications
24/06/2020—DEMOS Identifies Four Types of Populism in European Political Parties
17/06/2020—Stronger Democratic Institutions Curb Populism
05/05/2020—Populist Discourse on Social Media Inflames Anti-European Sentiment
15/04/2020—DEMOS Creates 'Democratic Efficacy', a Concept to Counter Populism
23/01/2020—To Strive, Slovak Populists Explore Neglected Social Issues, DEMOS study says
About DEMOS
DEMOS — Democratic Efficacy and the Varieties of Populism in Europe — is a three-year collaborative research project with 15 consortium members across Europe. DEMOS is funded by the European Commission under the Horizon 2020 framework programme. The project, which kicked off in December 2018, has two chief objectives: better understand populism by investigating under-researched trends in existing scientific literature and contribute to addressing the challenge of populism through innovative and action research. Read more about DEMOS on our website.