News
The Effects of Populism on Governance, Citizens, and Parties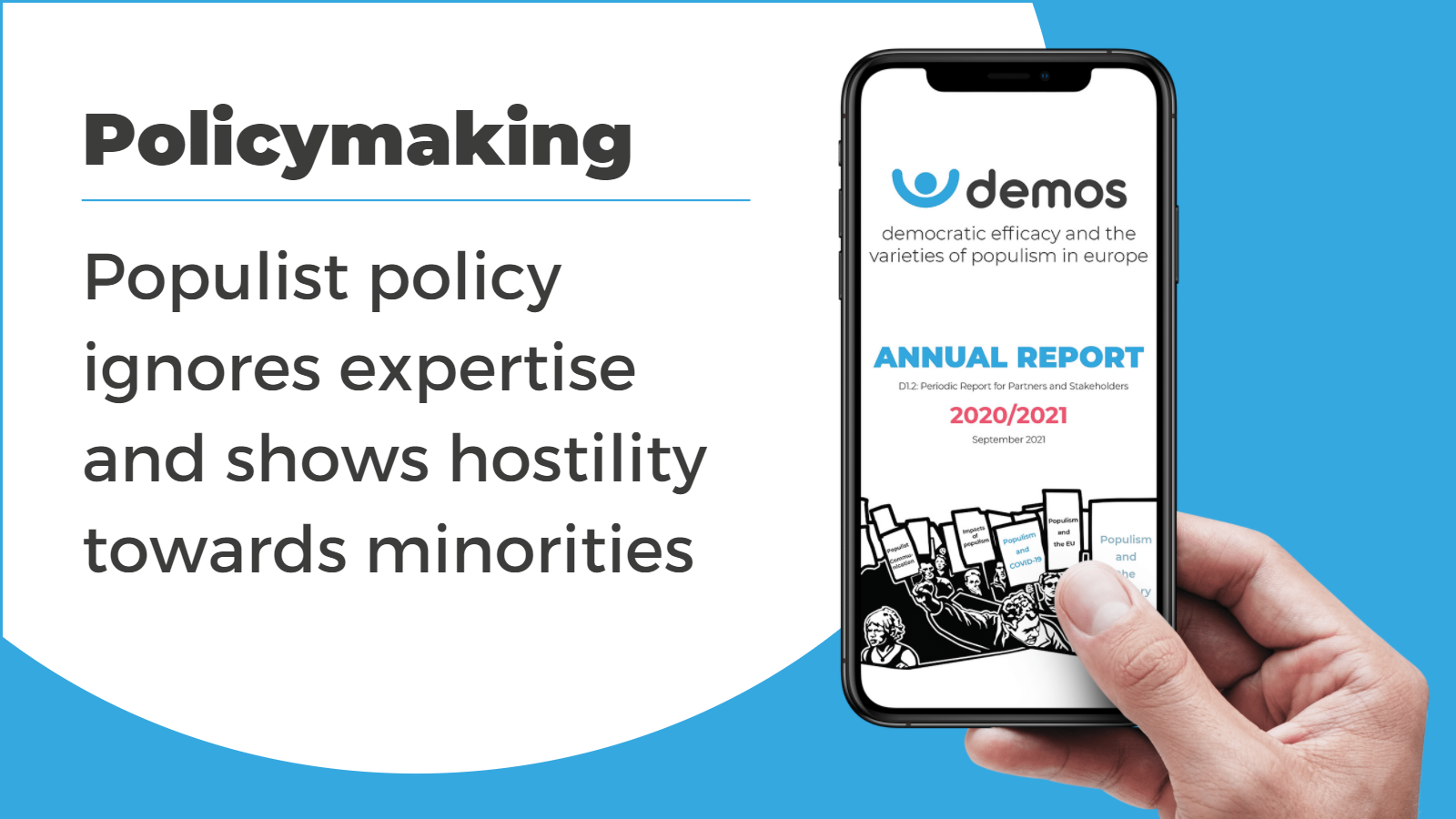 DEMOS H2020 releases its second annual report today (download below). It covers the past year of research, including project findings on the links between populism and COVID-19. The pandemic forced the world to cope with strict lockdowns. Governments were required to respond and communicate with citizens abruptly confined at home. Politics and policy also had to adapt.
Preliminary findings show that, at least during the first wave of the crisis, populist actors failed to achieve the political support they sought. That, however, does not suggest that populism is coming to an end in today's politics.
New studies covered in the report show these links. DEMOS H2020 researched how governments and parties across Europe, under the premises of populist politics, have exerted influence over the judiciary and citizens. Research teams across Europe have also examined populist governance and policymaking both at national and local levels.
Set to complete its innovative research on populism and democracy in April, 2022, DEMOS H2020 is conducting more research and designing tools aimed to address the negative tendencies of populist movements. New insights into populism remain relevant for understanding the future of liberal democracy even when new and unexpected events unfold, such as COVID-19.
Download Information
DEMOS – ANNUAL REPORT, 2020/21. Download here.
Press Contact
Discussion
Sign up to the DEMOS website and share your comments on the publication in our forum.
Scientific Results Explained
Access the project scientific communication platform here.
Follow DEMOS
Newsletter
Twitter
Facebook
YouTube
Podcast
About DEMOS
DEMOS — Democratic Efficacy and the Varieties of Populism in Europe — is a three-year collaborative research project with 15 consortium members across Europe. DEMOS is funded by the European Commission under the Horizon 2020 framework programme. The project, which kicked off in December 2018, has two chief objectives: better understand populism by investigating under-researched trends in existing scientific literature and contribute to addressing the challenge of populism through innovative and action research. Read more about DEMOS here.