Events
Webinar: The Impacts of Populism
Organised by ECAS, conference will be moderated by former Green MEP Jean Lambert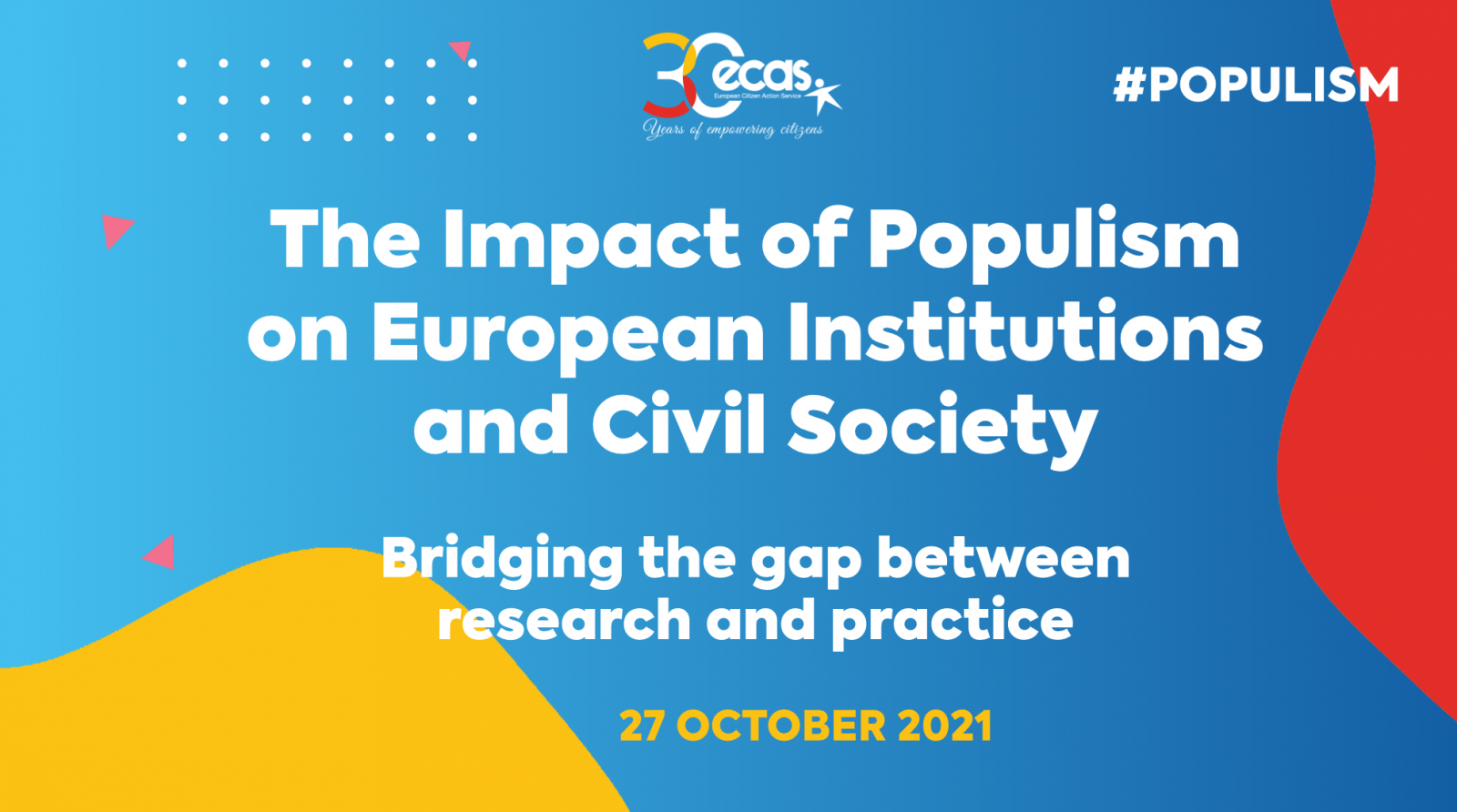 DEMOS's Brussels-based partner European Citizens Action Service (ECAS) will bring 10 experts in populism and representatives of EU institutions to explore the impacts of populism in an online event on 27 October (see details and registration form below).
Moderated by Jean Lambert, former Green MEP and vice chairperson of ECAS's board of directors, the online conference will explain the links between populists' narratives and EU's responses as well as the populist impact on civil society organizations (CSOs).
Assya Kavrakova, ECAS's Executive Director, will explain some of the ways in which EU institutions can address the populist challenge. That includes boosting checks and balances in the EU and enabling civic education on active citizenship.
Kavrakova's analysis on EU options has recently come out in the book "Facing the threat of populism: How the European Commission can reconnect with citizens", published by Springer.
DEMOS's leader, Zsolt Boda, Director-General of the Centre for Social Sciences, which coordinates DEMOS, will participate in the online discussion alongside Bruce Edmonds, project leader of PaCE, another EU-funded project studying populism in Europe.
The event
Moderator: Jean Lambert, former MEP, Vice Chairperson of the European Citizen Action Service (ECAS) Board of Directors
Introduction: Why this book? Why now?
Carlo Ruzza, Professor of Political Sociology at the University of Trento, Italy
The Impact of Populism on the European Institutions: What's new?
Carlo Berti, Research Fellow at the School of International Studies, University of Trento, Italy
The Impact of Populism on Civil Society: main conclusions
Pierluigi Brombo, Head of the Foresight, Studies and Assessment unit at the European Economic and Social Committee (EESC)
Paolo Cossarini, Postdoctoral Researcher at the Department of Culture and Learning, Aalborg University, Denmark
What is the blueprint for the future: a "silver bullet" or adapting to a new political reality?
Assya Kavrakova, Executive Director of the European Citizen Action Service (ECAS)
Interventions
Zsolt Boda, Director General of the Centre for Social Sciences – Hungarian Academy of Sciences Centre of Excellence and principal investigator of DEMOS – Democratic efficacy and the varieties of populism in Europe – Horizon 2020 project
Kalypso Nicolaidis, professorial Chair of Global Affairs at the EUI School of Transnational Governance in Florence, where she convenes the EUI Democracy Forum.
Salvatore Finamore, member of the Analysis and Research team of the General Secretariat of the Council.
June Bedaton, in charge of the Secretariat of the EESC Group on Fundamental Rights and Rule of Law.
Prof. Bruce Edmonds, Director of the Centre for Policy Modelling at the Manchester Metropolitan University and Professor of Social Simulation.
Registration
Open to the public, the event will be held online on 27 October, 2021, at 2 PM (CET). To attend the event, please register here.