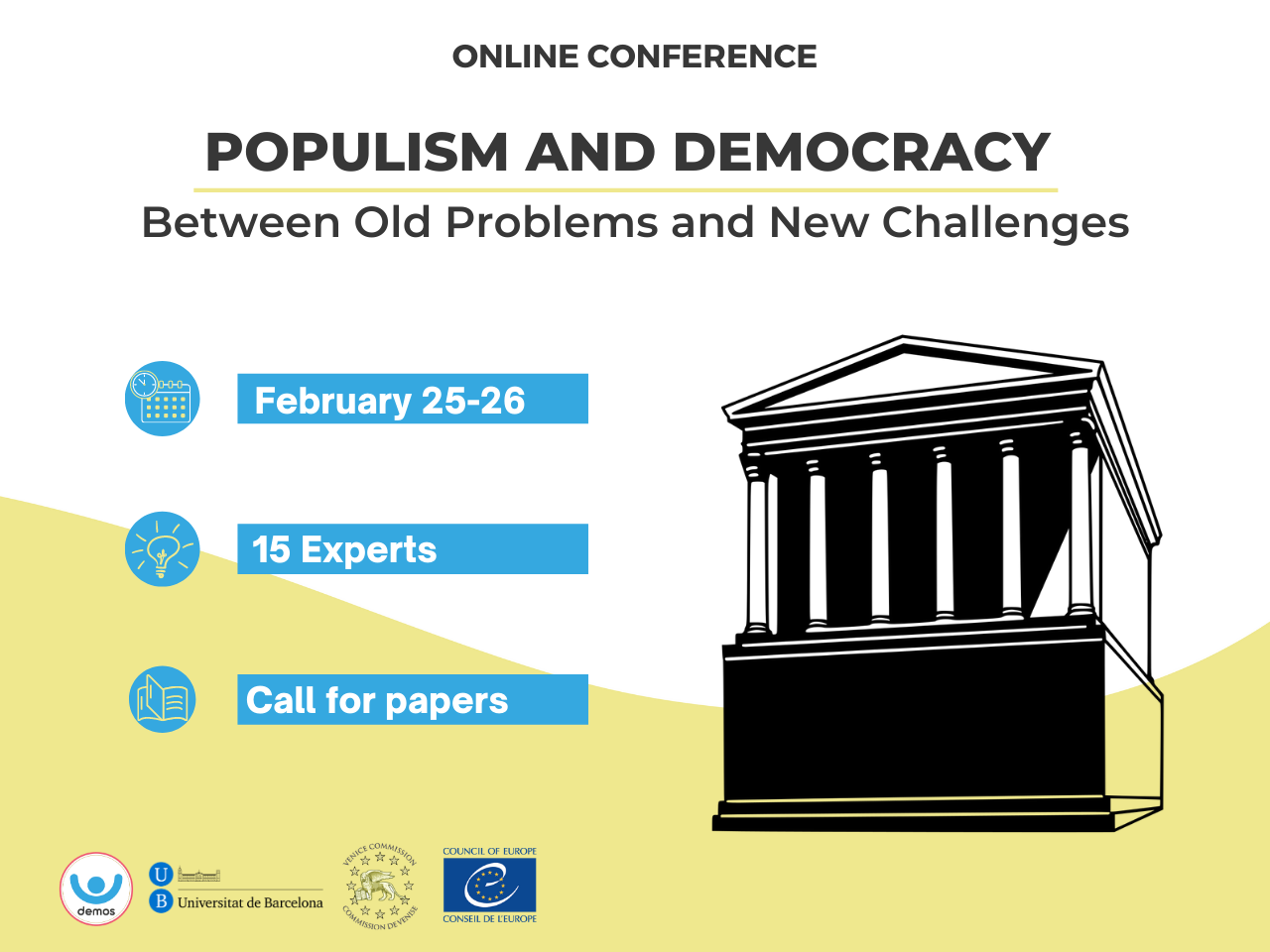 DEMOS will hold an online conference to present its scientific results and discuss the effects of populism on democracy. Taking place between February 25 and 26, the milestone event will focus on how populism has affected institutions of European democracies and the effects of the COVID-19 pandemic on constitutional democracy. Over 10 DEMOS experts and invited speakers across Europe will also reflect on solutions to address these challenges. Young scholars are welcome to take part in the discussion by submitting their papers by December 20 (see information below).
The two-day DEMOS conference is co-organised by GEDECO (Grupo de studios sobre Democracia y Constitucionalismo) of the University of Barcelona and the Venice Commission for Democracy through Law—the advisory body of the Council of Europe in constitutional matters. The participation of the Venice Commission's experts provides insights into the ways populism has affected constitutional law making and how European standards adapted to that impact.
The conference
"Populism and Contemporary Democracy in Europe. Between Old Problems and New Challenges" — 25-26 February 2021 (online conference).
Call for papers
A call for papers is open until December 20 for young scholars to take part in the debate. The organisers plan on publishing papers discussed during the conference, either in an issue of a law journal or in book format. Click here for more information.
Contact Information
Dr. Marco Antonio Simonelli (University of Barcelona): m.a.simonelli(at)ub.edu
Keynote speakers
Nikos Alivizatos, University of Athens - Venice Commission Member
Paloma Biglino Campos, University of Valladolid - Venice Commission Member
Josep Maria Castellà, University of Barcelona - Venice Commission Member
Fruzsina Gardos Orosz, Institute of Legal Studies, Budapest
Miroslaw Granat, University of Warsaw - Former Judge at the Polish Constitutional Court
Simona Granata Menghini, Acting Director, Secretary of the Venice Commission (a.i)
Tania Groppi, University of Siena
António Henriques Gaspar, Venice Commission Member -Former President of the Portuguese Supreme Court
Helle Krunke, University of Copenhagen - IACL representative in the Venice Commission
Kim Lane Scheppele, Princeton University
Cesare Pinelli, University of Rome La Sapienza - Venice Commission Member
Rafael Rubio Núñez, Complutense University - Venice Commission Member
José Tudela Aranda, Secretario General de la Fundación M. Giménez Abad, Zaragoza
Teresa Violante, MPI for Comparative Public Law and International Law, Heidelberg
Zoltán Zsente, Research Chair of the Institute of Legal Studies, Budapest
Scientific Committee
Prof. Josep Maria Castellà Andreu, Full Professor of Constitutional Law, University of Barcelona
Prof. Tania Groppi, Full Professor of Public Law, University of Siena
Prof. Helle Krunke, Full Professor of Constitutional Law, University of Copenhagen
Prof. Zoltán Szente, Resarch Chair of the Institute of Legal Studies, Budapest
Organising Committee
Dr. Marco Antonio Simonelli
Dr. Nuria Gonzalez Campañá
Juan Tello Mendoza